TLG-200-B Battery Charging Wind Generator with Grid Tie option
Driven by our field proven Quadraflex AL Rotor

Superior product over Chinese turbines.

Comparable to most units on the market rated up to 400 watts.

Performs well in low to medium wind.


Will not disintegrate in high winds


Heavy construction tested to 110 MPH.

No planned maintenance, mount it and forget it.


Bird friendly due to low speed blade rotation. (no transparent rotation)


Virtually silent operation even in high wind conditions.


Reaches full output at only 600 rpm's


Mounts on standard 1 1/2" I D pipe.


Constructed of heavy gauge steel and aluminum


All hardware necessary to assemble.


All you have to do is paint it, assemble it, and then enjoy it.

The Budget "B" Series of turbines from TLG produce decent power in low to medium winds, but most importantly, they will far outlast the cheap Chinese turbines which have flooded the market that many are forced to buy because of price alone.
Here at TLG we want you to be successful so we developed the "B" series so everyone can afford to own a quality wind generator that won't fly apart because you had a high gust of wind.
This unit can be connected to the grid by way of optional inverter, but it would be best suited as a trickle charger for battery maintenance.
I would not recommend it as a primary system.
At TLG WindPower your success is our success!
TLG-
2

00-B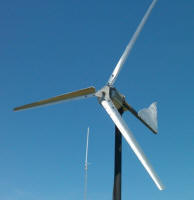 Grid Tie OR

Battery Charging - Wind Generator System

Current unit price $500.00 includes:
TLG-200-B Generator Head
Yaw Assembly with Bearing
Five foot Diameter Quadraflex AL Rotor
Steel hub
3 - phase Bridge Rectifier.

Need a tower click here, we offer a 27 foot free standing tower for only $650.00 plus shipping