Auto Climate Systems in Canada puts the first TLG-500 in flight

Comments below the images.
Click on any image for larger view.


A picture of the first of two TLG-500 units.

Both units mounted up.
The second TLG- 500 is about 6-7 feet higher than the first one. I noticed when we were putting it up that I had to shunt brake it even when the first one was not spinning! So it looks like the extra few feet will make a difference. When you head west on the street in front of our shop after crossing the intersection you head up a small hill. I drove up over the hill this morning and looked back towards the dealership next door and was able to confirm that the second bird is above their roof line, that should also help.
As soon as I can I will send an mpeg video with both spinning. Right after hooking up the second generator I noticed we hit 14 amps with both and the winds AT BEST were 10-15 mph.................WOW!!!!!!! Of course Sigh-gone kicked in shortly there after.
Update 2-2-07
I took the time to try and get as accurate a reading as possible, for us winds out of the south are the best. The output with two (2) TLG500 units going into our 12 volt battery bank which is comprised of six 6-volt Surrette (Rolls S530) batteries is; at 10 mph the TriMetric meter was reading pretty steady between 6-7 amps and periodically as much as 8-9 with mild gusts.
Even with some drop in wind speed down to the 7-8 mph range I was still reading 4 amps.

My wind speed is base on two sources, one anemometer attached to one of the towers, and through our local weather network current conditions broadcast on the web. Its input station is approximately 2 miles from my location. http://www.theweathernetwork.com/weather/cities/can/Pages/CAON0342.htm

I have been experimenting but setting two of my six 120 watt solar panels (still yet to be permanently installed) outside and the combination works great.

Keep up the good work.
Dave


They look nice standing side by side.


You can see the low visual impact even with two units on the building.


Nice side view of the unit.

Another view of a good looking bird even if I do say so myself! ;)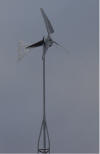 Either way looks good to me.


A view from behind the shop of the tower and bracing.

A picture of the way Dave finished out his wiring into the supplied strain relief.
Click the link below to view a short video of its first time startup
NOTE: If you watch the video below the blades appear to be turning backwards. (its a camera shutter thing)
The blades do in fact rotate CW and not CCW as it appears.
First Rotation
If you are on Dial Up this may take more than 3 minutes to load.


A good picture of the rectifier wired up with a 30 amp automotive breaker.


Both rectifiers along with the system monitor.


An overall view of the power center.


Power center with battery box.


A very well laid out battery bank.
Note from Terry: After looking at these pictures it is clear that Dave does some very nice work!
Comments from Dave of Auto Climate Systems.
We received our (two) TLG-500's and WOW!
There is no doubt about the quality and durability in your product. We finally got the first one up today and it looks amazing, all I need now is some wind LOL.
Wind was just about right during the hoisting, but dropped off right after we got it up!
You have put together the total package here. From the generator to the yaw bracket/mount to the blades. It all has quality and pride written all over it.
When I first started looking (almost 2 years ago) into alternative energy solutions for our shop, I looked at the AIR-X and almost bought one, boy am I glad I waited. There is no comparison in my opinion, how can a 20 lb generator compare to a 40 lb. It would only take a small amount of electrical knowledge to realize that the number of windings and magnets by weight alone makes a huge difference!
I have installed a TriMetric meter by Bogart Engineering to monitor both input and output and as I get familiar with using it I will forward the data.
I have attached the pictures of Canada's first TLG-500 and will forward you more once we get the second one up hopefully by the end of next week (still have a business to run unfortunately, LOL).
If anyone wants to ask us about our TLG-500, don't hesitate to give them our number.
Thanks for a great product, not to mention the personal service and support.
888-220-6884

Added: 11-17-06
Today we had gusty winds (more like breezes), not sure exactly how fast, but enough to make power. The Picture shows 3.7 amps on the Trimetric Meter (12 volt battery bank)
I seem to find myself glued to the meter watching what it does.......................we made over 10 amps at one point with varying winds, INCREDIBLE!
The unit is dead quite, not a peep. Great job!
YOU HAVE WAY UNDERESTIMATED WHAT THIS UNIT CAN DO I AM SURE!